Sunday, December 3, 2023 2:00 pm - 3:00 pm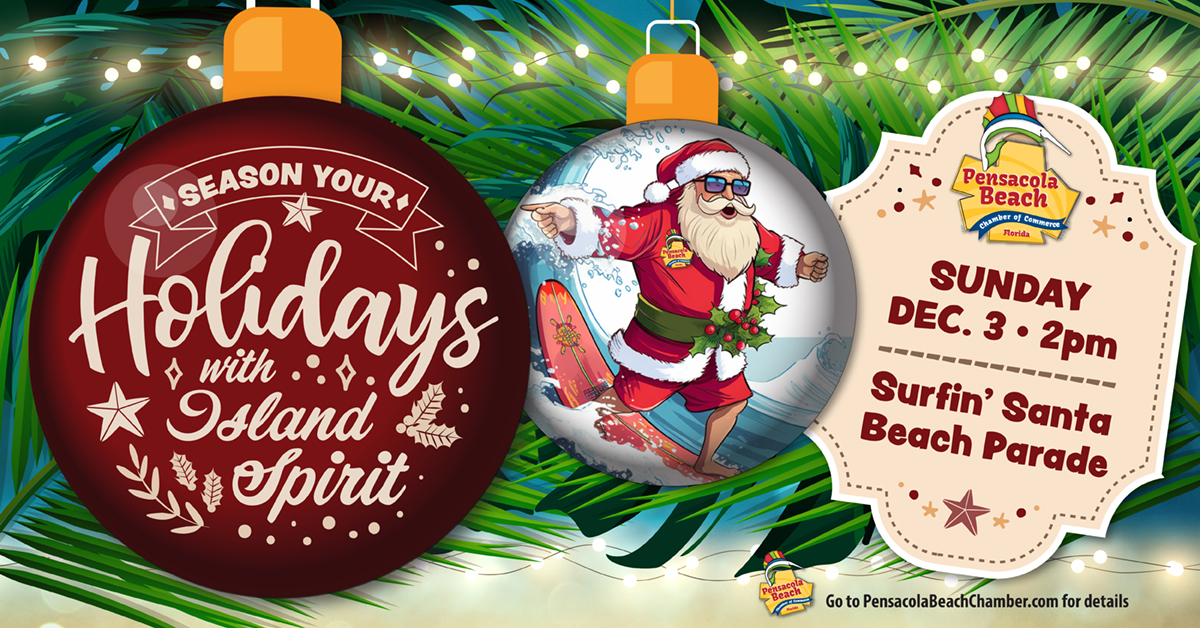 Surfin' Santa Beach Parade
Make your way to Pensacola Beach on Sunday, Dec. 3, to see Santa Claus close out the annual Surfing Santa Beach Parade!!!
Starting at 2 p.m. from Panferio Drive (at Avenida 11), the parade will make its way west down Via De Luna toward Casino Beach and end at the Gulfside Pavilion.
Early Bird registration (through June 1) is $50 for Non-profits / $100 for Businesses.
Regular registration (June 2-November 15) is $100 for Non-profits / $150 for Businesses.
Late registration (November 15 - November 28) is $150 for Non-profits / $200 for Businesses. 
ONLY applications are due as commitment to participate.  All payments are due by November 28.
Check In: 12:30 p.m.  at the corner of Panferio Drive (at Basketball Courts) and Via de Luna
Parade Start: 2 p.m.
Disband: Gulfside Pavilion, Casino Beach Parking Lot
Checks payable to: Pensacola Beach Chamber of Commerce
DEADLINE TO ENTER: Tuesday, November 28th at Noon               INFORMATION: 850-932-1500
Please note these parade guidelines:
Please do not have a Santa on your float or vehicle. Santa will be on his own "Sleigh."
For safety, each large float should be have designated walkers at each wheel.
All entries must be decorated including "tow" vehicles with costumed riders in Holiday Island Spirit.
Each entry is required to have Parade Throws. NO CANDY ALLOWED. No used toys or stuffed animals.
Check-in and line up begins at 12:30 pm, Sunday, Dec. 3.
Drivers must be licensed & responsible. Santa says no drinking & driving.
Parade Marshal will turn away any entry which does not satisfy safety rules and guidelines.