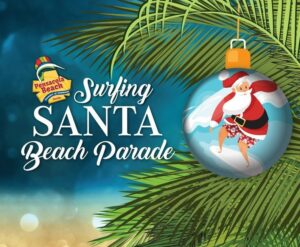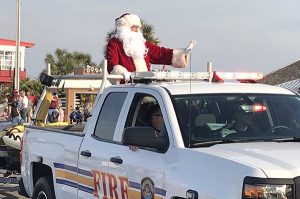 December 6, 2020 2:00 pm - 3:00 pm
Surfing Santa Beach Parade
Thousands of children, parents and other spectators make their way to Pensacola Beach on Sunday to see Santa Claus close out the annual Surfing Santa Beach Parade.
Robert Gleim, general manager of Bamboo Willie's Beachside Bar, will be this year's parade Grand Marshal.
Starting at 2 p.m. from Avenida 10, the parade will make its way down Via De Luna toward Casino Beach and end at the Gulfside Pavilion, where kids will be able to meet and greet with Santa until 3 p.m.
For those wanting to participate in the Surfing Santa Beach Parade, the deadline to register is Tuesday, Dec. 3 at 5 p.m. and the entry fee is $50.
For entry details, call or email the Pensacola Beach Chamber of Commerce at 850-932-1500 or email penbeach@visitpensacolabeach.com.
More info to come...