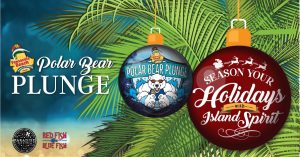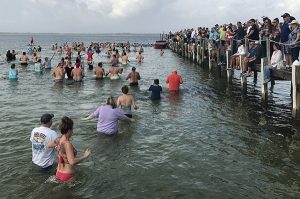 January 1, 2021 12:00 pm - 3:00 pm
Wash off 2020 with our Polar Bear Plunge! Head to Pensacola Beach at 2 p.m. and plunge (safely) into the Santa Rosa Sound at the annual Polar Bear Plunge. To practice effective social distancing, this year's event will take place at our signature spot, Paradise Bar & Grill, as well as Red Fish Blue Fish, our family-friendly area.
Hundreds of dippers and spectators – many dressed in costume – flock to the beach to participate in this long-established tradition.
Registration begins at noon and the fee is $15 cash per person and participants will receive a Polar Bear Plunge t-shirt or a $10 registration donation to participate without the t-shirt and $5 Cub Club for ages fifth grade and under (no shirt). Cub Club bags will be available at RFBF. All proceeds go to the Pensacola Beach Chamber of Commerce to fund events on the Island.
Plunge at your own risk, water shoes are encouraged.
For more information, call (850) 932-1500