Each month our members nominate their fellow members who have gone above and beyond.
Jan. 2021
ProHealth walk-in clinics offer friendly and affordable primary, preventative, and semi/non-emergent medical care in Pensacola and Gulf Breeze. ProHealth offers discounted blood work, occupational health services, COVID-19 tests, and many other services.  Learn more at ProHealthFL.com

Feb. 2021
Subway, Pensacola Beach offers a wide variety of sandwiches, wraps, salads and more! Quick, affordable and convenient. A quick meal or a catered event - Subway, Pensacola Beach can handle it! Subway's owner is an active participant in our community and Chamber.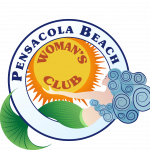 March 2021
Pensacola Beach Woman's Club Mission:
To conduct civic projects and activities for the benefit of the residents and visitors of Santa Rosa Island and to make the island a better place to live and play.
Our monthly luncheon membership meeting is on the third Thursday of each month at the Beach Church Community Hall.
April 2021
First Dance Ballroom Studio has professional instructors, welcoming community of dancers and fully-equipped studio. Whether you're a beginner or an experienced dancer looking to improve your technique, you can find it all at our exceptional Ballroom Dance Studio. They are fully involved in charitable activities and loves supporting the community.
May 2021
Jump on board with Ho2 Pensacola for pet-friendly, kid-approved and fun for all water adventures. Rent a standard or premium pontoon or a luxury tritoon. Private or semi-private scenic bay dolphin tour for up to 6 passengers. A Private Captained Luxury Charter, Maxine, our 34 ft California Cruiser. A Frisky Sunrise, A Frisky Beach Stop or our most popular A Frisky Sunset!

July 2021
Lazy Days takes pride in our stellar reputation of providing the best beach equipment rentals to guests and owners for more than 30 years. The Lazy Days Beach Service team has your beach experience covered so you can focus on enjoying your stress-free beach vacation. Make the most of your time on the sand with our commercial-grade beach chairs, beach umbrellas and table setups. Our kayaks, paddleboards, and beach bike cruiser rentals are all great ways to spend the day exploring the beautiful Northwest Florida coastline we call home.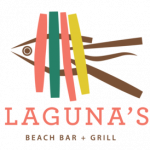 August 2021
Lagunas Bar and Grill is one of the more unique and diverse businesses on Pensacola Beach.
The vibe at Laguna's offers a variety of things to do, beautiful views, live entertainment every weekend in the summer, the only brick-over pizza kitchen, the largest tv screen on the island, perfect for game days.

September 2021
Plastic Engraving is a new business to the Chamber, but has not only been a staple for the Gulf Breeze Area since 1995 doing business mainly serving the local hotels and restaurants with name badges and signs. Plastic Engraving has established a wholesome family reputation in our area. Plastic Engraving introduced Awards in 1999 to serve our local community.
Plastic Engraving is definitely the place to go for all of your business and award needs.
Member of the Year 2020
Flounders Chowder House was selected our 2020 Member of the Year for their continual support and service to our community over the years. This year they provided free meals to residents and clean-up workers after Hurricane Sally. The PBCC is honored to have them as a member and partner!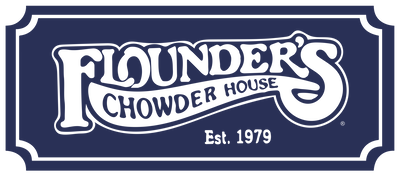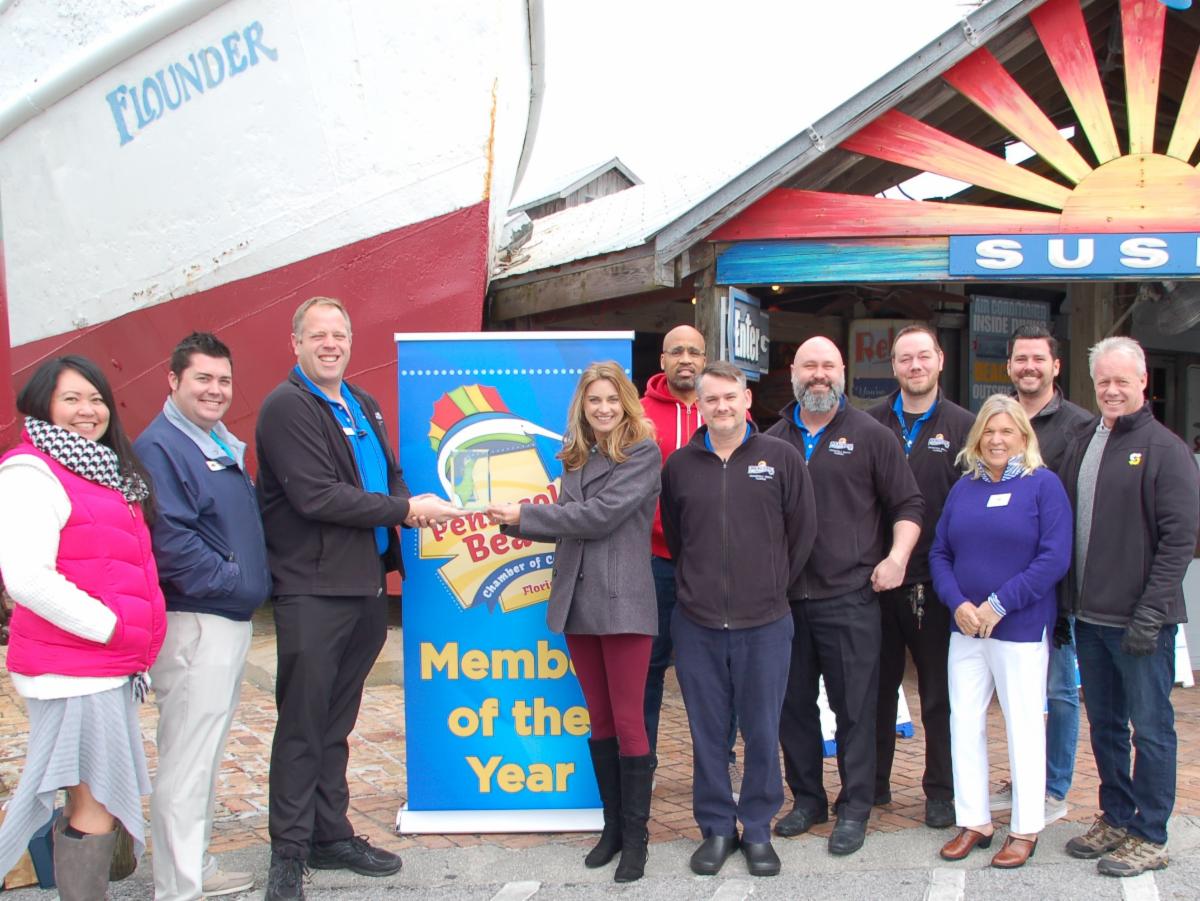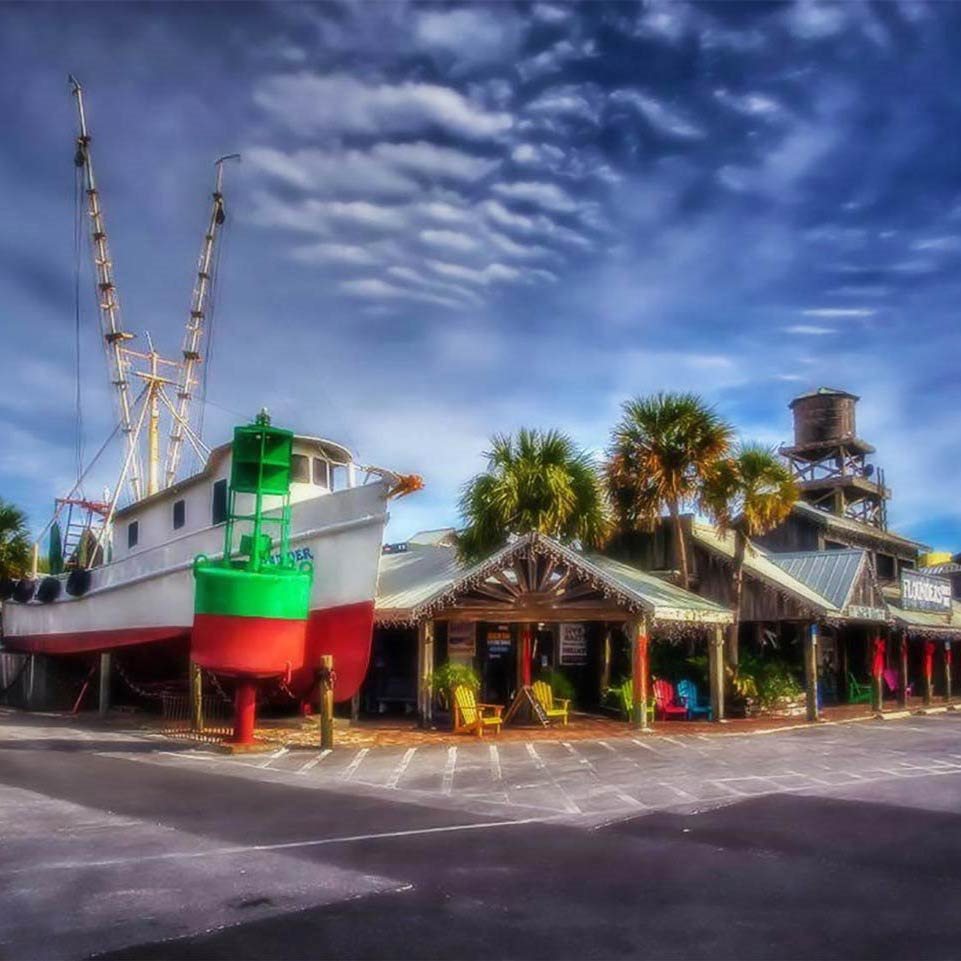 The Flounder Brothers, Fred, Floyd and Felix, are proud of their Antiques, Objects d'Art and Fleet of Boats. We hope you enjoy and appreciate them as much as they enjoy finding them for you.
As you approached the building, you surely noticed M/V FLOUNDER…55' length, 6' draft, and 20' beam, 30 tons net weight; built by D. C. Beaux Shipbuilders, Meraux, Louisiana and commissioned in Bayou La Batre, Alabama in 1946. Captain Frank Flounder and later his sons, Fred, Floyd and Felix, shrimped this vessel from Key West, Florida to Tampico, Mexico thru calm seas, tropical storms and fierce hurricanes until she was retired in 1998. This grand old shrimp boat is complete with nets, sleds, mast and rigging and is ready to go back to sea at anytime.
The Marlin Bar showcases the huge 980lb, blue marlin, a USGFA World Record catch by Warren Culbertson, a noted Gulf Coast Angler. Atop Flounder's stage you'll find a true Pensacola icon, the original sailfish sign that lit the way to Santa Rosa Island since the 50's. Not far from our Shrimp Boat sets another piece of local history, the Man Eating Giant Clam. This shell was displaced outside of the Allen Davis Shell Shop in Gulf Breeze from 1948-2004, when the store closed to make way for the Publix Shopping Center. On Flounder's Beach you will find an actual 15-foot Cuban raft, with a Russian built engine, which carried 27 Cuban refugees 85 miles across the Gulf from Cuba to Key West in 1988.
Inside the restaurant many ship models and the focal point of our bar, beautiful stained glass that came from a convent in upstate New York. Over the Bar you will see the huge hand-carved oak sections and the other three pieces at the end of the Dining Area are sections of Confessional Booths (ah, the stories they could tell…) from a church in New Orleans. In the windows are rare beveled glass panels and authentic European stained glass Pub windows. In the lofts you will see our collection of vintage Santa Rosa Country moonshine stills from the 1930's and 1940s.
Flounder's promises you a uniquely interesting and warm atmosphere with excellent Food and Drinks prepared and served by friendly employees who Give a Damn!!