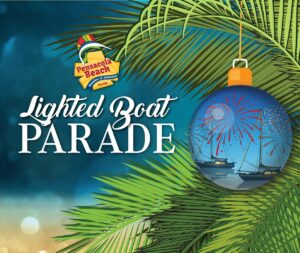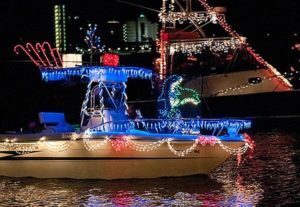 December 5, 2020 6:30 pm - 7:30 pm
Holiday Lighted Boat Parade
The Annual Holiday Lighted Boat Parade will set sail at 6:30 p.m. from Sabine Marina and make its way around the Santa Rosa Sound to the Pensacola Beach Boardwalk where it will dock by about 7:30 pm.
Leading up to the boat launch, a kid's party will take place from 4 to 6 p.m. at Shaggy's Pensacola Beach.
Directly following the boat parade, Santa will make his way to the Quietwater Shell to greet the children and a dazzling firework display will take place from the boardwalk at about 8 p.m.
For those wanting to participate and compete in the Lighted Boat Parade, the deadline to register will be Monday, November 3rd at 5 p.m. The entry fee is $35 per boat. Compete for bragging rights.
A Captain's meeting will be held on Wednesday, December 2nd at 6 p.m. at the Sandshaker Lounge and Package on Pensacola Beach for all boat parade participants. For more information, go to www.pensacolabeachchamber.com or contact Alison Westmoreland at 850-932-1500.
More info to follow...