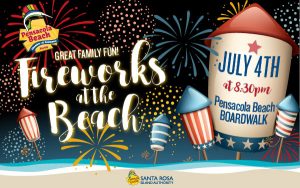 July 4, 2020 8:30 pm - 9:00 pm
POSTPONED Fireworks at the Beach!
7/2/2020
July 4th "Fireworks at the Beach" Postponed Pensacola Beach Chamber of Commerce The 2020 Independence Day "Fireworks at the Beach" event, organized by the Pensacola Beach Chamber of Commerce and set for Saturday, July 4, at 8:30 p.m. on the Pensacola Beach Boardwalk, has been postponed due to the threat of inclement weather and the rise in COVID-19 cases in the community. "We're disappointed to be postponing this annual event, but public safety and the health of the community remains our top priority," said Alison Westmoreland, director of the Pensacola B­­­each Chamber. The Chamber looks forward to hosting this annual event and will release details on the re-scheduled date and time in the coming weeks.
Let Pensacola Beach get you into the patriotic spirit this Independence Day. With the sugar-white sands of Pensacola Beach under your feet, keep your eyes focused on the night skies this 4th of July for a dazzling fireworks display along the Pensacola Beach Boardwalk and Santa Rosa Sound. The show starts at 8:30 p.m. so arrive early to reserve your spot on the sand!