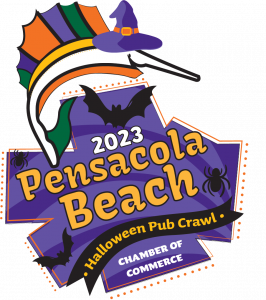 2023 Hallowee

n Pub Crawl
Sunday, October 29, 2023 - 2 p.m. until closing...
Dress up in your favorite costume and join in on the fun at the Second Annual Halloween Pub Crawl, Sunday, Oct. 29th, on Pensacola Beach. Hosted by the Pensacola Beach Chamber of Commerce, the 2023 Halloween Pub Crawl will take place from 2 p.m. until closing at nine participating beach bars and restaurants on the island.
Each participating venue will be brewing up its very own Halloween potions and concoctions for guests to imbibe. There will be no set pub crawl schedule. Participants are encouraged to crawl at their own pace, in whatever order they want.
The 2023 Pensacola Beach Halloween Pub Crawl locations have yet to be determined and will be announced in October 2023.
Call (850) 932-1500 for more information.