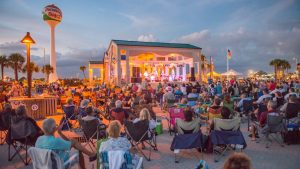 Pensacola Beach's popular outdoor summer concert series.
Escambia County, Santa Rosa Island Authority, and the City of Pensacola are following the CDC recommendation that organizers cancel all publicly-permitted, in-person events that consist of 50 people or more beginning Monday, March 16, until further notice. Please note this information is changing rapidly and we will inform you once event restrictions have been lifted. At this time, all Bands on the Beach concerts have been canceled until further notice.
Located in the beautiful Gulfside Pavilion overlooking the Gulf of Mexico, the series features regional artists performing a wide variety of music. Join us every summer for hot music, smooth grooves and a whole lot of good times.
Spectators are encouraged to bring lawn chairs or blankets to the pavilion area. No pets are allowed and glass is prohibited.
Bands on the Beach is at 7 p.m. and begins the first Tuesday in April and ends the last Tuesday in October.
Concerts are provided and organized by the Santa Rosa Island Authority.
For more information click here or call the SRIA at (850) 932-2257.