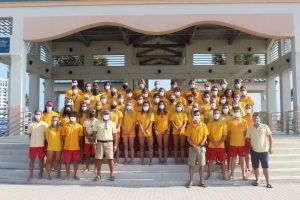 Pensacola Beach Lifeguards
Did You Know?
*Our Pensacola Beach Lifeguards work from 9:30 am to 6:30 pm and man the towers from 10 am to 6pm daily with a 1-hour break. They are required to have 80 hours of training with 40 of it being medical and the other 40 being tactical. They change the flags at 10 am everyday and change them to yellow at the end of their day, 6 pm. Unless of course it was red, and they will leave it that way overnight. They also update the website to correspond.
* When it is sunny, good surf, and/or a holiday they know it will be a busy day on the beach. At their peak, they have roughly about 75 lifeguards and man 7 towers on Pensacola Beach. The towers include one on Quietwater, and the rest scattered from the East dog park (near Fort Pickens) to the West dog park (near Portofino).
Virtual mile markers are used to locate you in an emergency when you call 911.
These invisible mile markers stretch about 21 miles Perdido to Navarre.
So please call 911 for any emergencies and not their direct number so it can be traced to the nearest "virtual mile marker" for them to find and assist you faster!
STATS: (since March 1st thru 8/16 and being closed for COVID 3/21-5/1)
Guesstimate of Beach Attendance total 206,939
Contacts with the public 59,697
Prevents 60,057
Assists – G 70
Assists – U 36
Rescues - 68 total - 58 in a guarded area/ 10 unguarded
Medical – Major 29
Medical – Minor 165
Lost child report– 56
Drowning related – 2
Ambulance - 26
Thank you
Pensacola Beach Lifeguards
We appreciate all you do!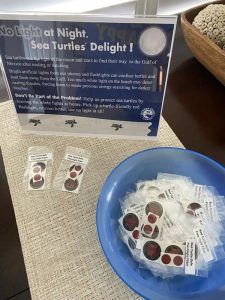 Turtle-Safe Red Flashlight Filters Available to the Public
The Pensacola Beach Chamber of Commerce is providing turtle-safe red flashlight filters to the public. The covers filter out the wavelengths of the visible light spectrum that are harmful to sea turtles.
Filters are available in both flashlight and cell phone sizes and can be picked up at the Pensacola Beach Visitor's Information Center on weekdays from 9 a.m. to 5 p.m. and weekends from 10 a.m. to 3 p.m. Additional information about local sea turtles and sea turtle-friendly practices are also available. A maximum number of six people are allowed to enter the building at a time.The public is also asked to adhere to the CDC recommended physical distancing guidelines, and everyone is encouraged to wear a mask if possible.